Self Tanning Mousse - Dark
Get a flawless, natural-looking complexion with our velvety, weightless Self-Tanning Mousse. Easy to apply, it dries quickly and provides an even complexion with each application. Enriched with Coconut, Cucumber, Mango and Grapefruit Extracts, this mousse will leave your skin glowing, soft and hydrated. The dark shade is perfect for medium to dark skin tones and those wanting a rich, glowing tan.
Regular price

Sale price

$44 USD

Unit price

per
or 4 interest-free payments with
Free shipping over 450$*
Pair and Save
How to use
Follow these steps to achieve a gorgeous natural-looking glow:
Exfoliate days prior to the application with the Body Exfoliant and Exfoliating Mitt.
Do not exfoliate, wash or shave the skin the day of application.
Use on dry, clean and bare skin.
Moisturize dry areas including knees, ankles, feet, elbows and knuckles.
Dispense 2-4 pumps of mousse onto the Tanning Mitt.
Apply to skin one body part at a time in upward circular motions until evenly blended.
Wait 5 minutes before getting dressed.
Allow a minimum of 6 hours before showering to reveal the developed tan.
Shower in warm water to remove the colour guide.
Moisturize daily with the Body Cream to prolong and maintain the tan.
More details
Enriched with a bunch of skin-loving ingredients such as coconut oil, mango extract, chamomile extract and cucumber extract, this mousse will nourish your skin while offering you a gorgeous bronzed complexion. This product has been formulated with a stunning instant colour guide to ensure an easy and streak-free application.
Wash off colour guide.
Develops into 6 hours.
Tan that lasts up to 5–7 days.
Made from natural and naturally derived ingredients.
100% vegan and 100% cruelty-free
Gluten-free, paraben-free and sulfate-free.
Without mineral oil.
Fresh mango scent.
Made in Canada.
Ingredients
Aqua (Water), Dihydroxyacetone, Ethoxydiglycol, Glycerine (Plant derived), Decyl Glucoside, Erythrulose, Cocos Nucifera (Coconut) Oil, Mangifera Indica (Mango) Fruit Extract, Chamomilla Recutita (Matricaria) Flower Extract, Prunus Armeniaca (Apricot) Kernel Extract, Cucumis Sativus (Cucumber) Fruit Extract, Citrus Grandis (Grapefruit) Seed Extract, Phenoxyethanol, Ethylhexylglycerin, Sodium Metabisulfite, Parfum (Fragrance), Red 40, Blue 1, Yellow 5, Green 5, Citric Acid.
FAQ
How long should I wait before rinsing off the Self Tanning Mousse?
The Self Tanning Mousse should be rinsed after a minimum of 6 hours for best results. Contact with liquids should be avoided during the development period.
How many applications can I get from one bottle?
The Self Tanning Mousse is allowing up to 8 full-body applications. Usage will vary depending on the quantity of product applied.
Can I use the Self Tanning Mousse on my face?
While the Self Tanning Mousse is made with a bunch of amazing clean ingredients, we recommend using the Face Tan Water when tanning the face. The Face Tan Water has been created for delicate and sensitive skin. This product is clear, lightweight and made with gentle ingredients that prevent breakouts. We recommend applying the Face Tan Water first on the face and neck to create a natural-looking glow. Then the Self Tanning Mousse can be applied to the rest of the body.
Can I sleep with the Self Tanning Mousse on?
The Self Tanning Mousse can be left on the skin overnight. This product has been formulated to offer a quick-drying process. However, sleeping in long clothing will help to prevent transfers on sheets.
How long will the Self Tanning Mousse last on my skin?
Everyone's skin is different, but the Self Tanning Mousse usually lasts for up to 7 days when combined with a daily use of the Body Cream and the Body wash and a proper preparation of the skin with the Body Exfoliant. An exfoliated and moisturized skin will ensure a long-lasting tan and even fading.
How do I get a perfect finish on my hands and feet?
Prior to using the Self Tanning Mousse, we recommend applying a fine layer of Body Cream on your hands and feet, to avoid the mousse developing darker on dryer areas. We recommend you apply the Self Tanning Mousse on your arms and legs and then spread the remaining of the product on the mitt on your hands and feet. For a streak-free finish, we recommend using a clean and dry blending brush to blend the product on hands and feet after the application.
Nuda Babes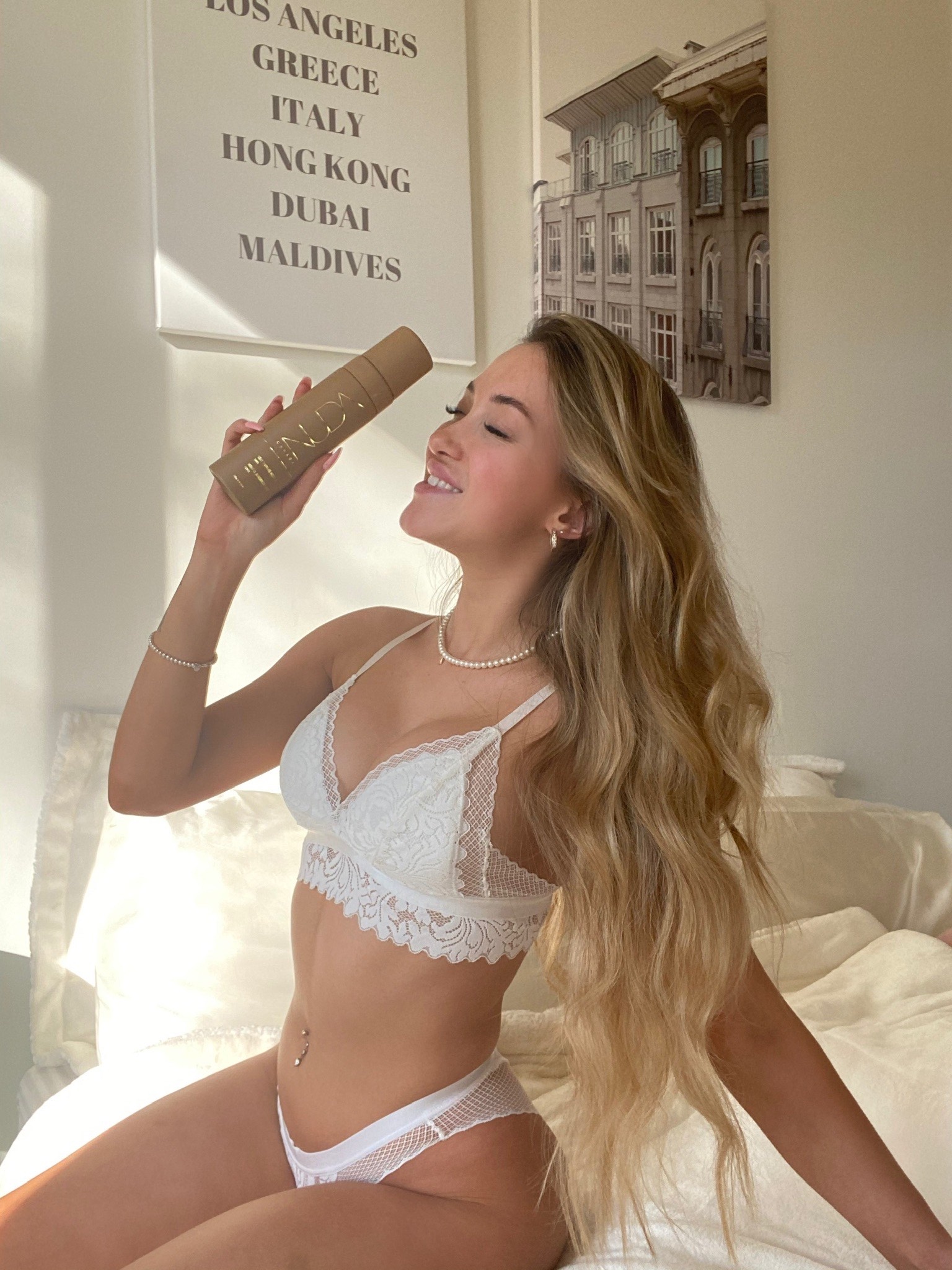 @elianelagrange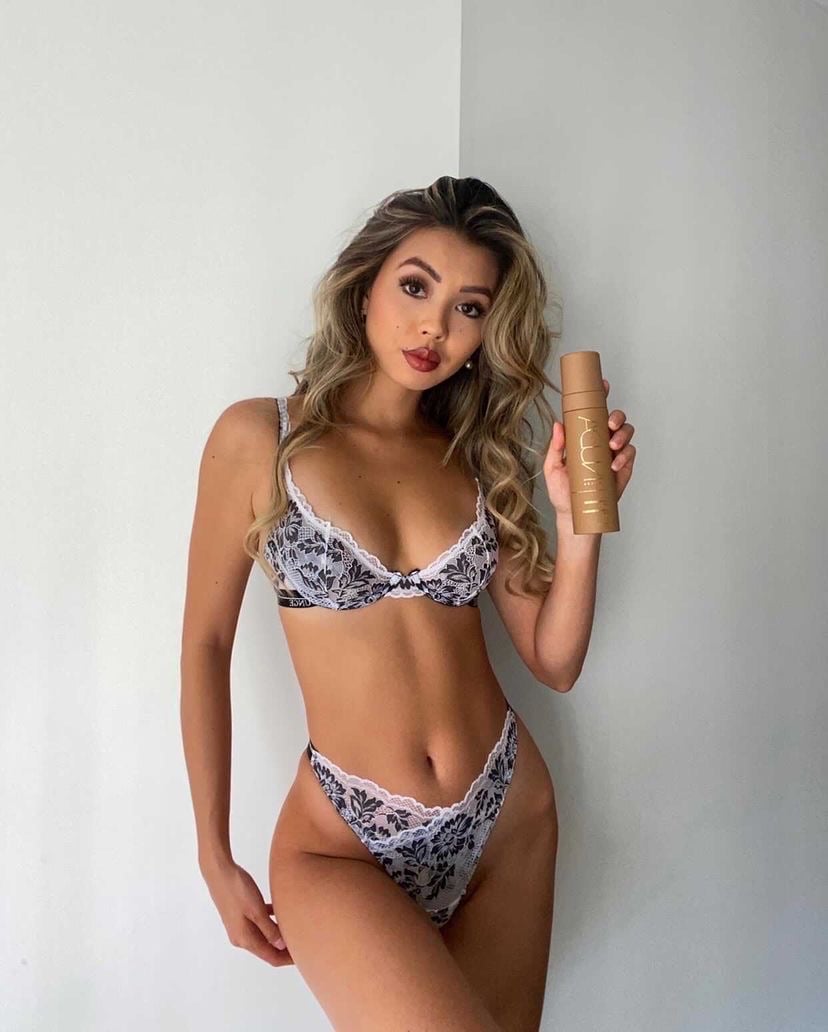 @michellerachelc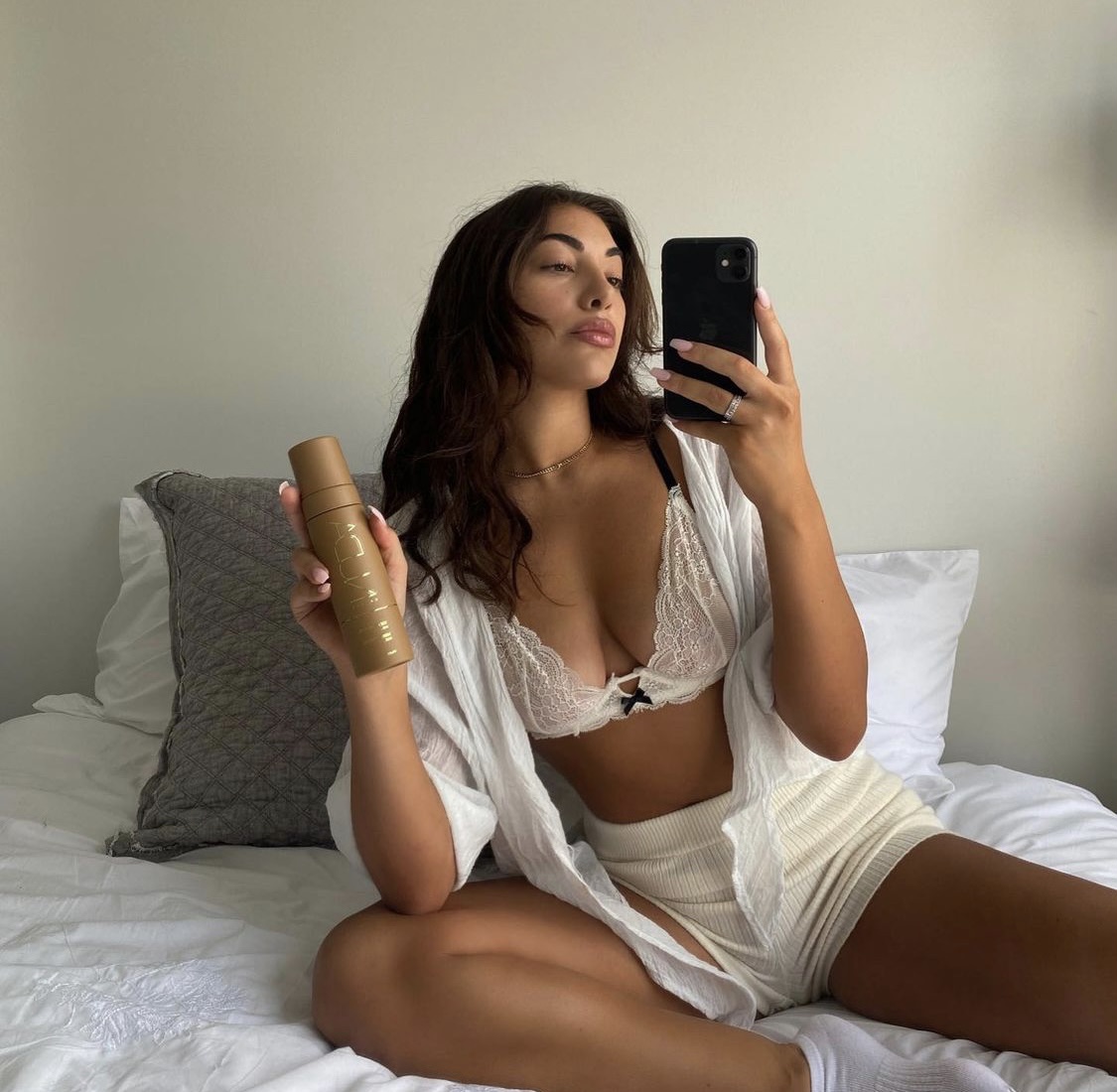 @biamercs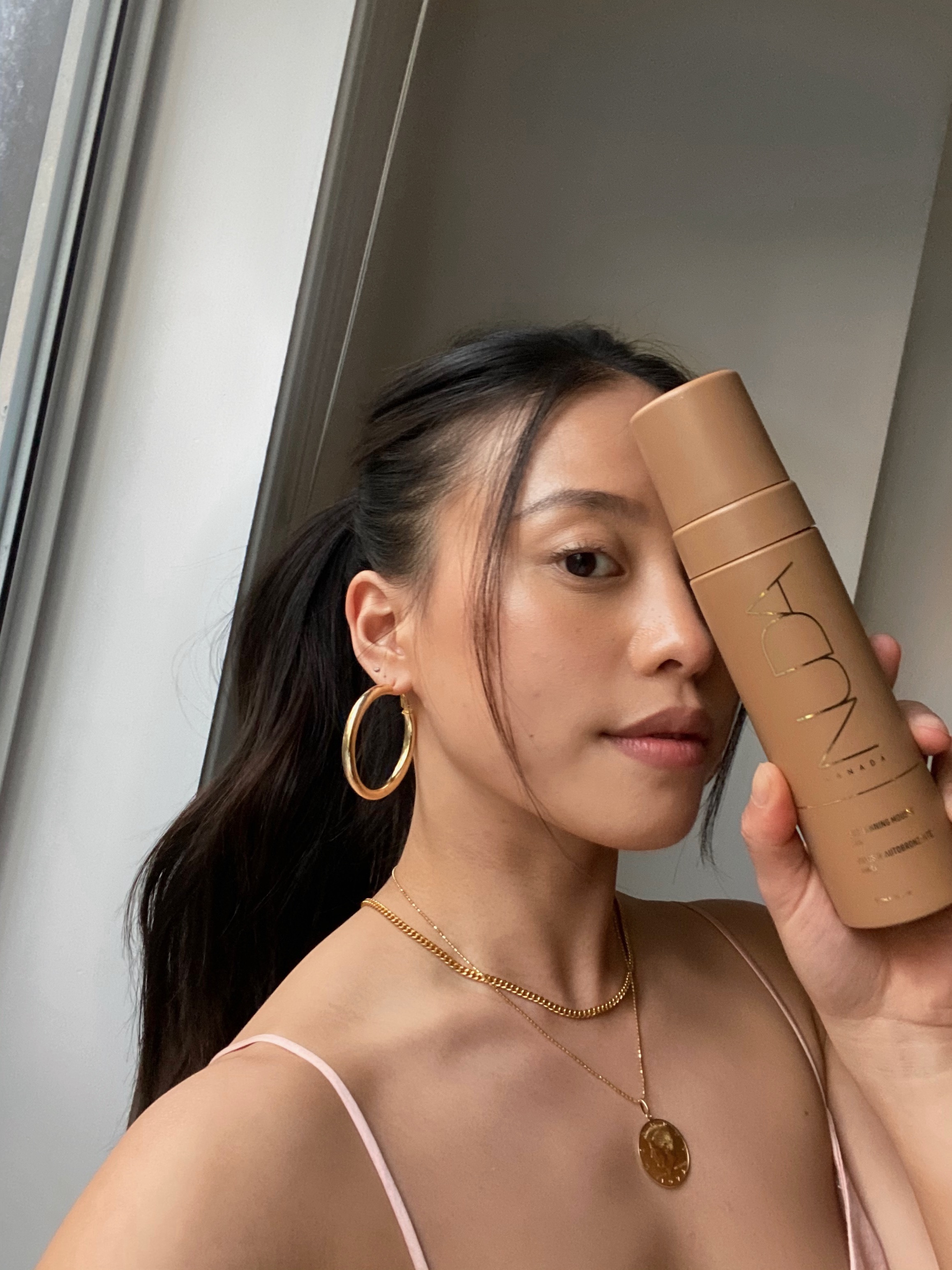 @lizzybrownxx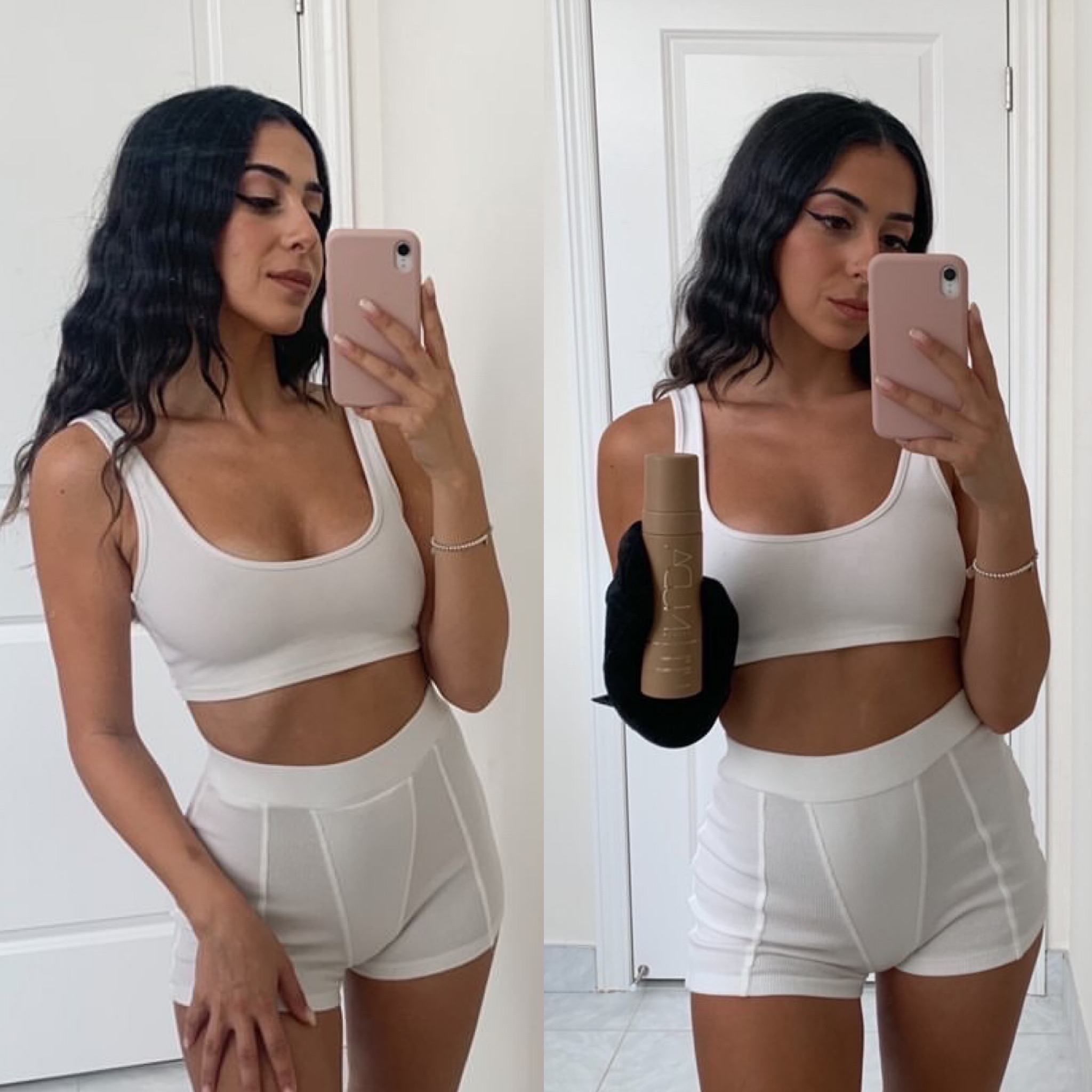 @makeupbycarinaa
Paraben-free
Sulfate-free
Gluten-free
Natural ingredients
Vegan & cruelty-free
Paraben-free
Sulfate-free
Gluten-free
Natural ingredients
Vegan & cruelty-free
Paraben-free
Sulfate-free
Gluten-free
Natural ingredients
Vegan & cruelty-free
Paraben-free
Sulfate-free
Gluten-free
Natural ingredients
Vegan & cruelty-free
Skin Loving Ingredients
Cucumber Extract
Say yes to a firm and elastic skin texture! Cucumber extract is well known for its firming and tightening properties. As it is a strong antioxidant, it will also help prevent environmental damage and signs of aging.
Mango Extract
Mango extract contains a high level of vitamin C, which reduces inflammation caused by acne and magnesium. Vitamin C is also known to help reduce oily skin. Plus, mangos are packed with cleansing astringent properties.
Coconut Oil
Coconut oil provides the ultimate hydration for your skin! Known for its moisturizing and nourishing properties, coconut oil helps renew your skin cells after scrubbing the dead cells.
Tanning Tips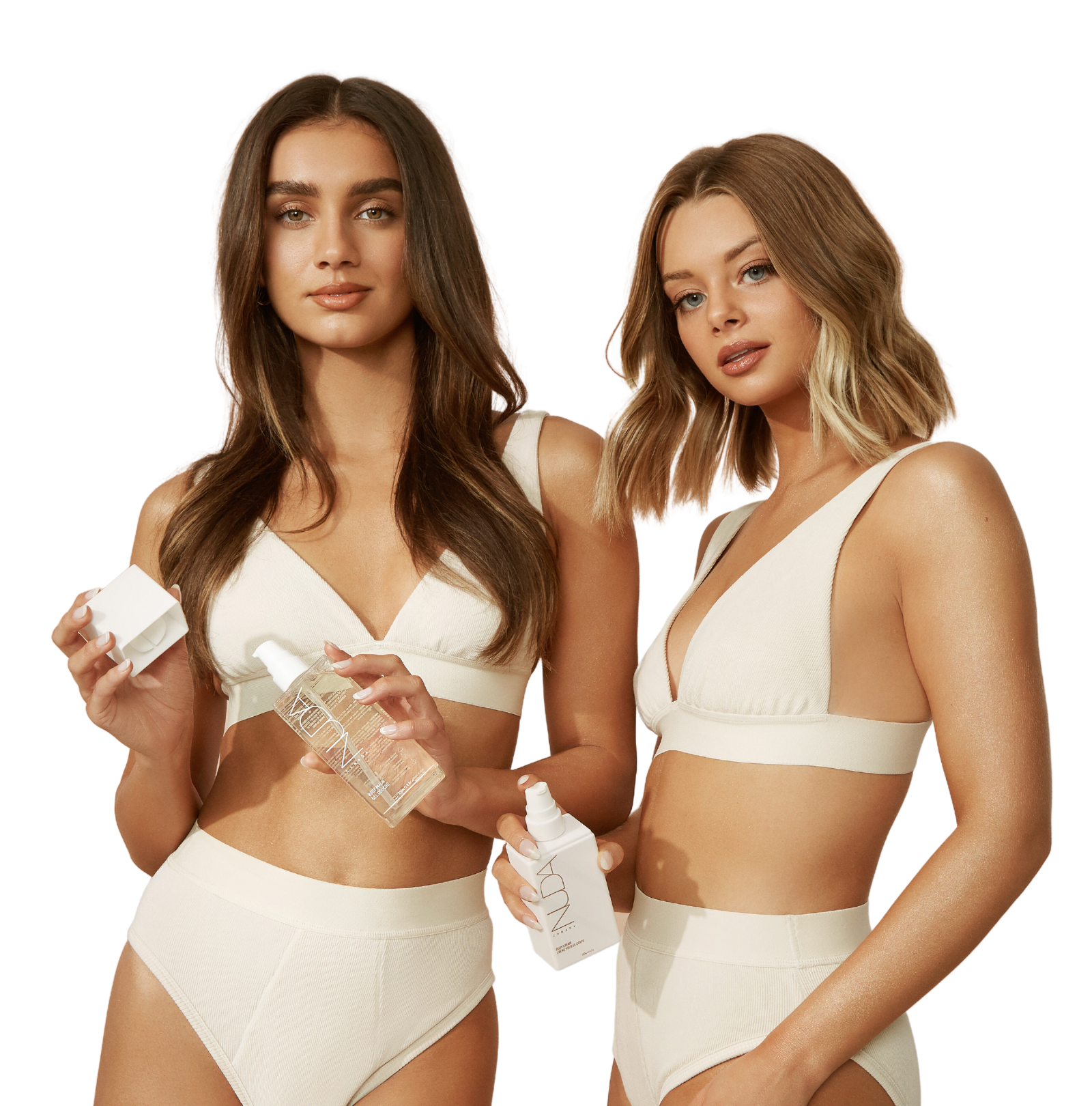 Before
Exfoliate and hydrate your skin several days before applying the Self Tanning Mousse.
Wash and shave your skin 24 hours before the application.
Avoid wearing perfume, deodorant or lotions.
Apply on clean and dry skin.
After
Wear dark coloured and loose fitted clothing.
Avoid contact with liquids and wait a minimum of 6 hours before showering.
Hydrate your skin every day using the Body Cream.
Avoid hair removal and exfoliation for the duration of the result.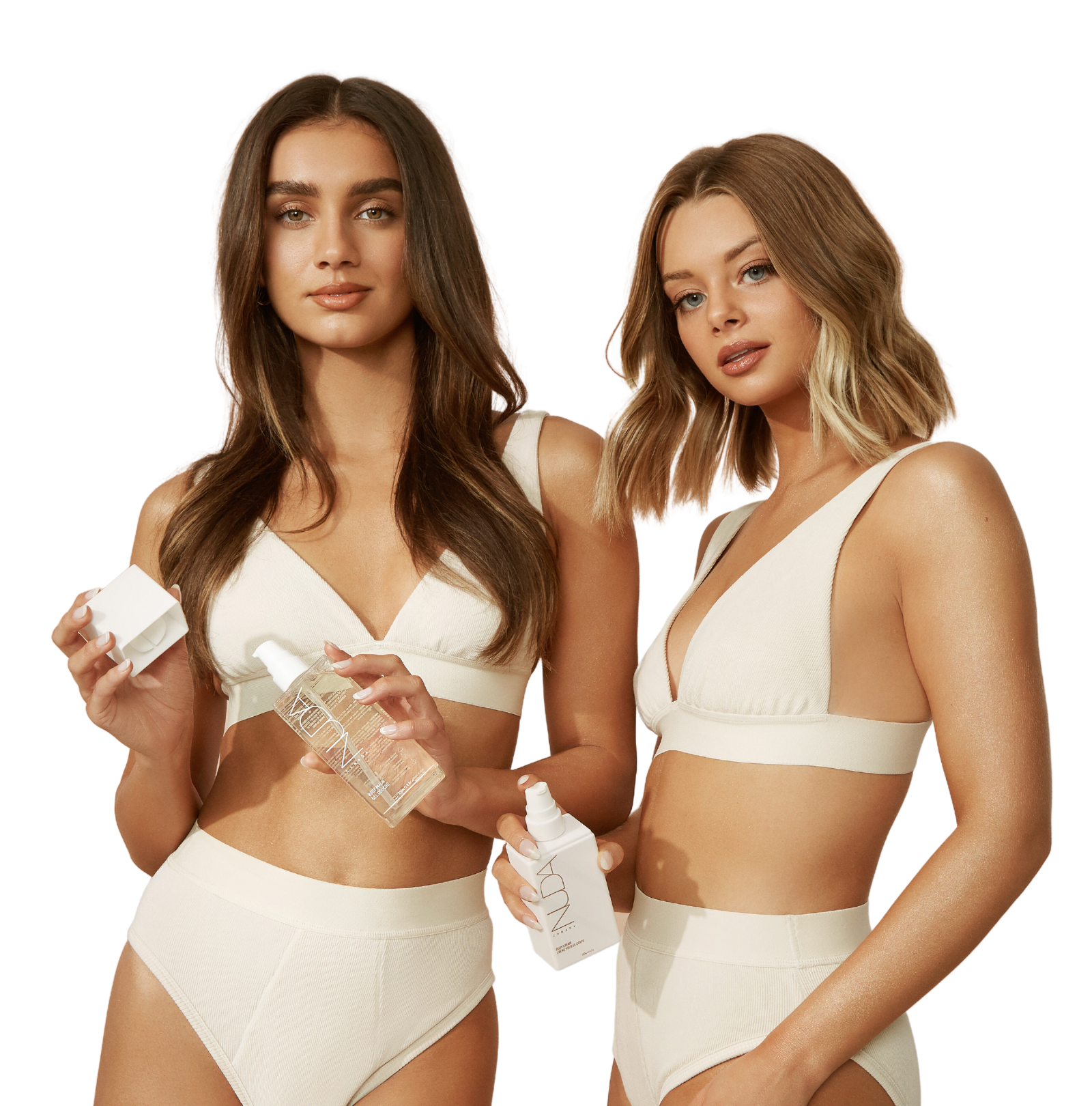 Self Tanning Mousse - Dark