Self Tanning Water Mousse - Light to Medium
BUY A PACK OF 5, GET 1 STWM FOR FREE!
A revolution in the field of self-tanning products is about to make its way into your spa or salon. Get ready to discover an innovative and practical innovation that will dazzle your clients.
We have created a one-of-a-kind self-tanning product. Its innovative formula reveals a natural radiance and even tone, giving the skin a sun-kissed appearance without the harmful effects of UV rays.
Be amazed by its lightweight texture and one of the healthiest formulas on the market, seamlessly blending into the skin for flawless tanning. Your clients will be won over by the ease of use and stunning results of this product.
The exclusive pre-sale of this highly anticipated breakthrough is now open, offering you the opportunity to add it to your beauty arsenal ahead of everyone else. Be among the first to offer this revolutionary self-tanning product to your clients and amaze them with a radiant complexion.
Are you ready to usher in a new era of beauty in your spa or salon? Don't miss out on this opportunity to pre-order this essential beauty industry gem. The future of self-tanning is within reach.
How To Use
Follow these steps to achieve a gorgeous natural-looking glow:
- Exfoliate days prior to the application with the Body Exfoliant and Exfoliating Mitt.
- Do not exfoliate, wash or shave the skin the day of application.
- Use on dry, clean and bare skin.
- Moisturize dry areas including knees, ankles, feet, elbows and knuckles.
- Dispense 2-4 pumps of mousse onto the Tanning Mitt.
- Apply to skin one body part at a time in upward circular motions until evenly blended.
- Wait 5 minutes before getting dressed.
- Allow a minimum of 2 hours before showering to reveal the developed tan. The more your wait, the deeper the tan!
- Moisturize daily with the Body Cream to prolong and maintain the tan.
More info
We have pushed the boundaries of innovation with our water-based formula to offer you the healthiest and most effective self-tanning product on the market.
- Quick development period (2 hours and more)
- Made with 95% natural ingredients
- Ecocert certified natural
- Radish root natural preservative
- Fragrance-free
- Formula without dyes or colorants
- Gluten-free, sulfate-free, paraben-free, mineral oil-free
- Made in Canada
Ingredients
Aqua (water), dihydroxyacetone**, ethoxydiglycol, erythrulose, glycerin (plant derived)*, decyl glucoside**, fragaria vesca (strawberry) leaf extract*, vaccinium angustifolium (blueberry) fruit extract*, camellia sinensis leaf extract*, populus tremuloides bark extract**, lonicera caprifolium (honeysuckle) flower extract**, lonicera japonica (honeysuckle) flower extract**, leuconostoc/radish root ferment filtrate**, gluconolactone, sodium metabisulfite, citric acid.
* Organic** Natural
FAQ
HOW LONG SHOULD I WAIT BEFORE RINSING OFF THE SELF TANNING MOUSSE?
The Self Tanning Water Mousse should be rinsed after a minimum of 2 hours and a maximum of 6 hours for best results. This formula is customizable depending on the level of tan you want. The longer you want, the deeper the tan!
HOW MANY APPLICATIONS CAN I GET FROM ONE BOTTLE?
The Self Tanning Water Mousse is allowing up to 8 full-body applications. Usage will vary depending on the quantity of product applied.
CAN I USE THE SELF TANNING MOUSSE ON MY FACE?
While the Self Tanning Water Mousse is made with a bunch of amazing clean ingredients, we recommend using the Face Tan Water when tanning the face. The Face Tan Water is easier to apply on the Face and neck to obtain a perfect result each time. We recommend applying the Face Tan Water first on the face and neck to create a natural-looking glow. Then the Self Tanning Mousse can be applied to the rest of the body.
CAN I SLEEP WITH THE SELF TANNING MOUSSE ON?
The Self Tanning Water Mousse is not recommended overnight. This product has been formulated with a rapid development, we recommend the development period to be a maximum of 6 hours.
HOW LONG WILL THE SELF TANNING MOUSSE LAST ON MY SKIN?
Everyone's skin is different, but the Self Tanning Mousse usually lasts for up to 7 days when combined with a daily use of the Body Cream and the Body wash and a proper preparation of the skin with the Body Exfoliant. An exfoliated and moisturized skin will ensure a long-lasting tan and even fading.
HOW DO I GET A PERFECT FINISH ON MY HANDS AND FEET?
Prior to using the Self Tanning Water Mousse, we recommend applying a fine layer of Body Cream on your hands and feet, to avoid the mousse developing darker on dryer areas. We recommend you apply the Self Tanning Water Mousse on your arms and legs and then spread the remaining of the product on the mitt on your hands and feet. For a streak-free finish, we recommend using a clean and dry blending brush to blend the product on hands and feet after the application.
TESTED AND APPROVED BY OUR COMMUNITY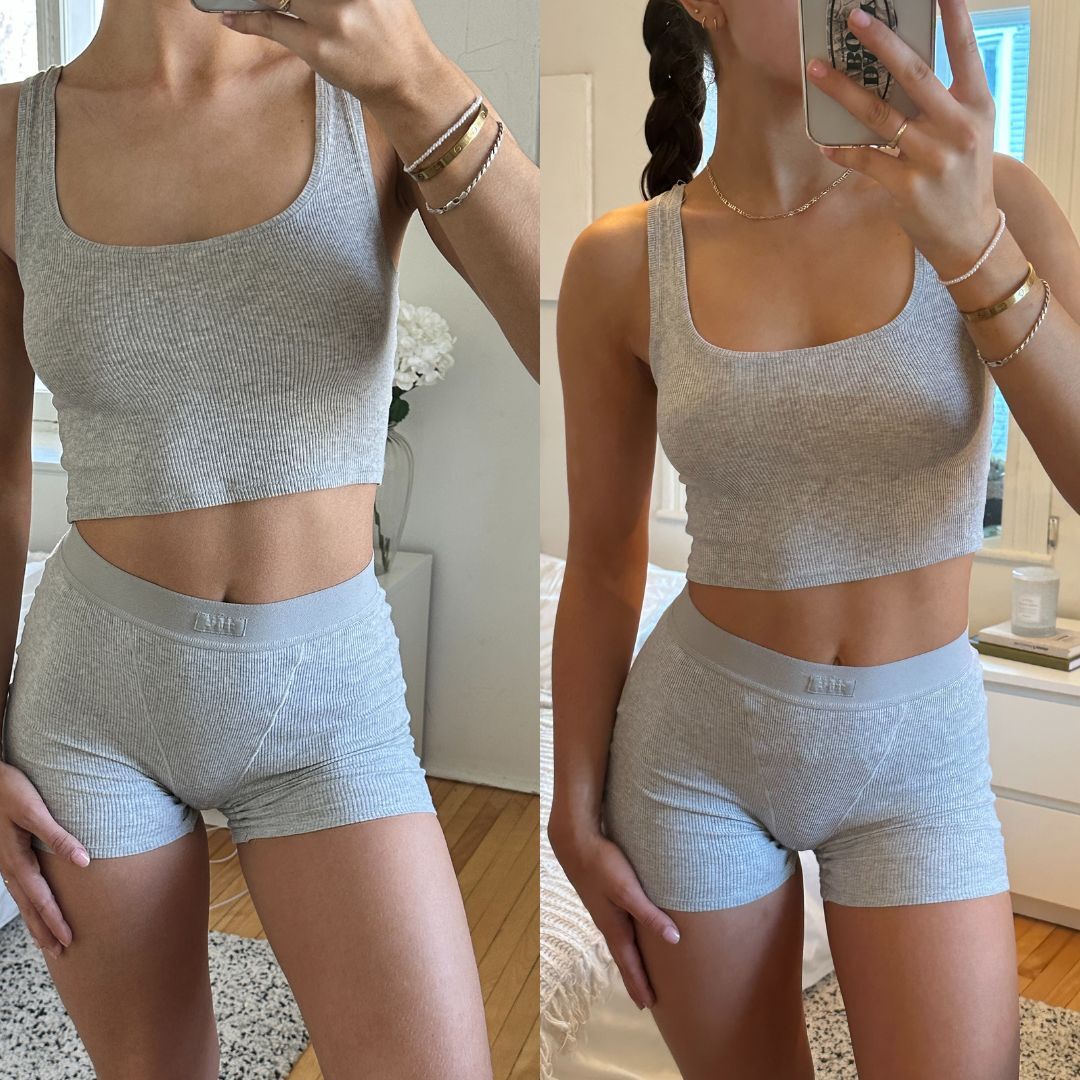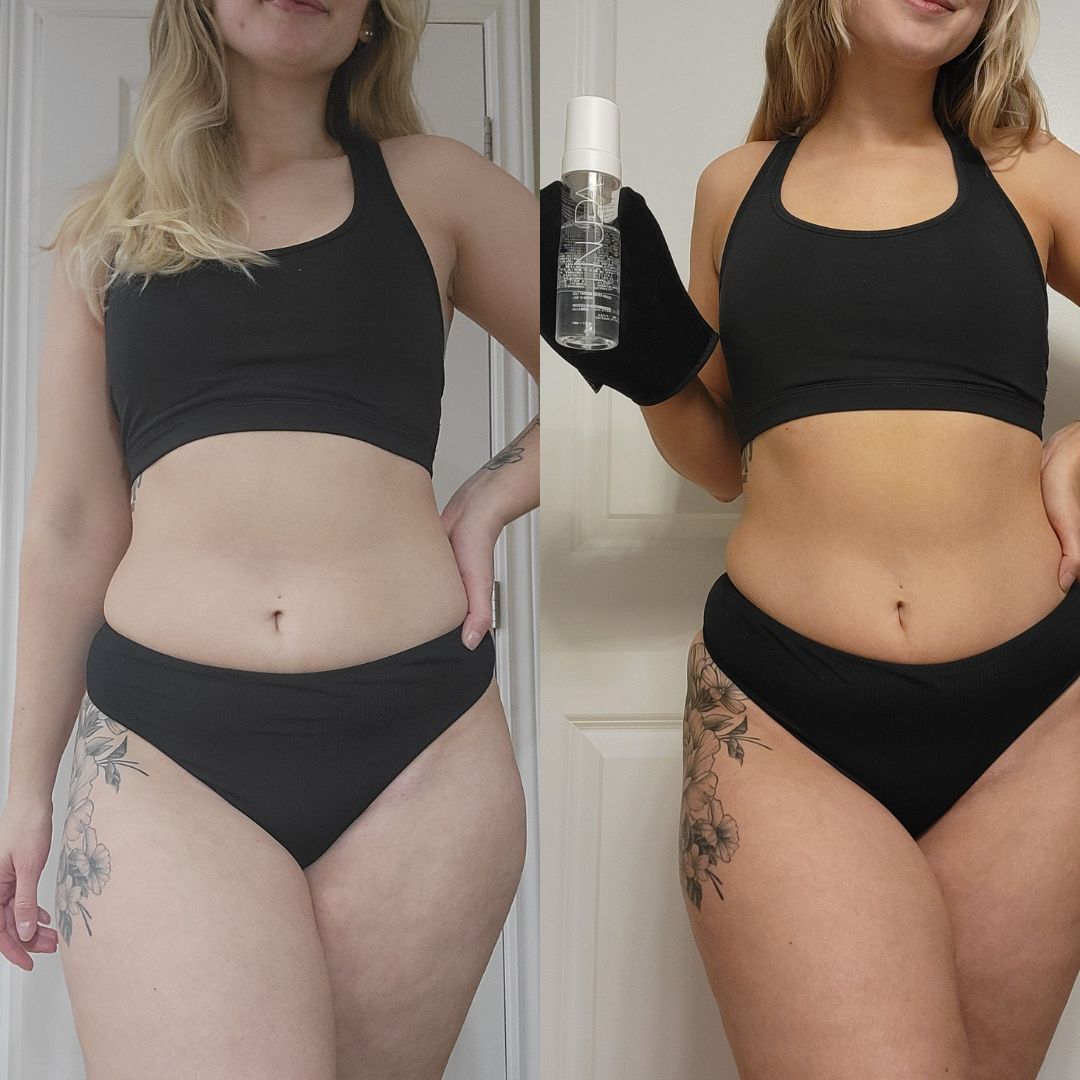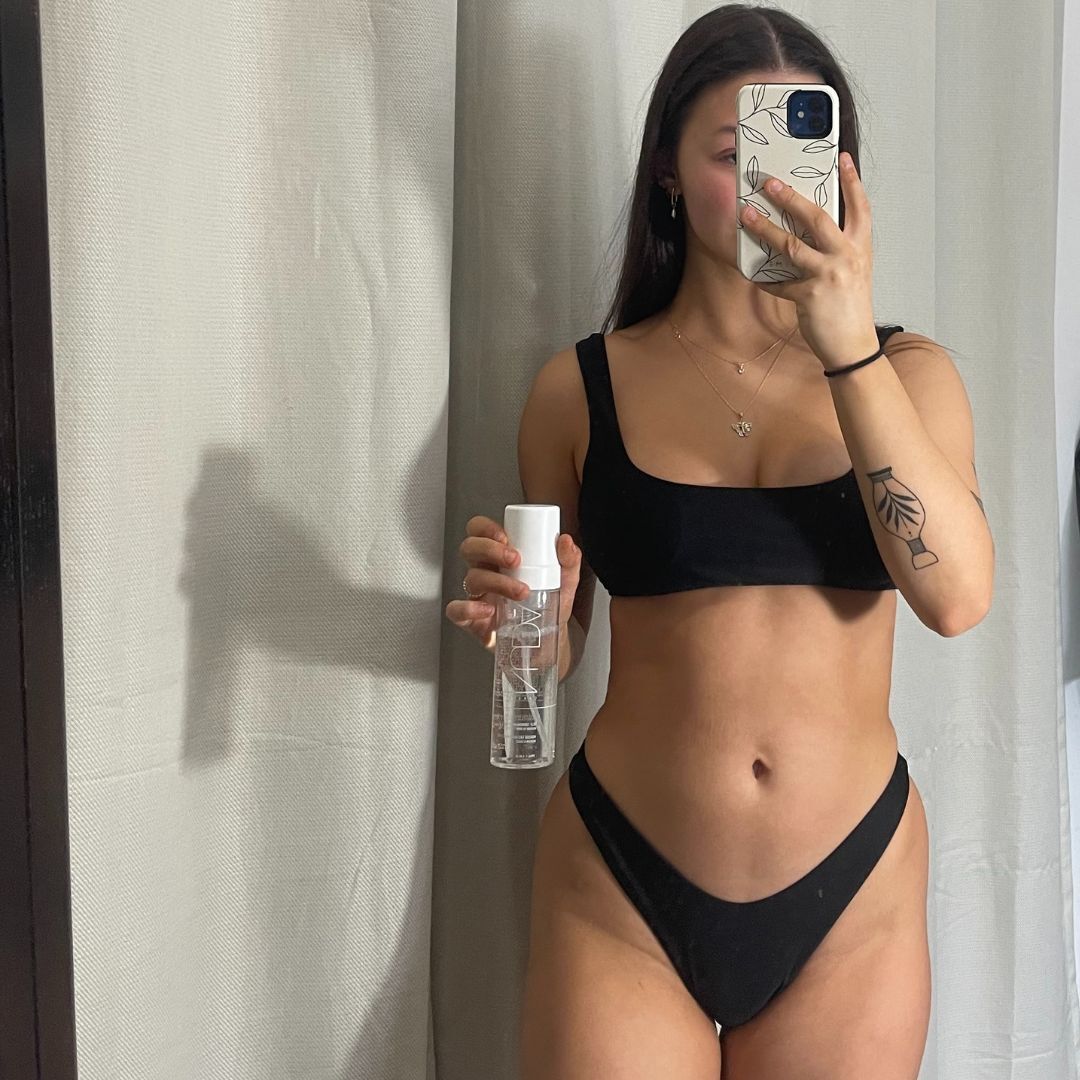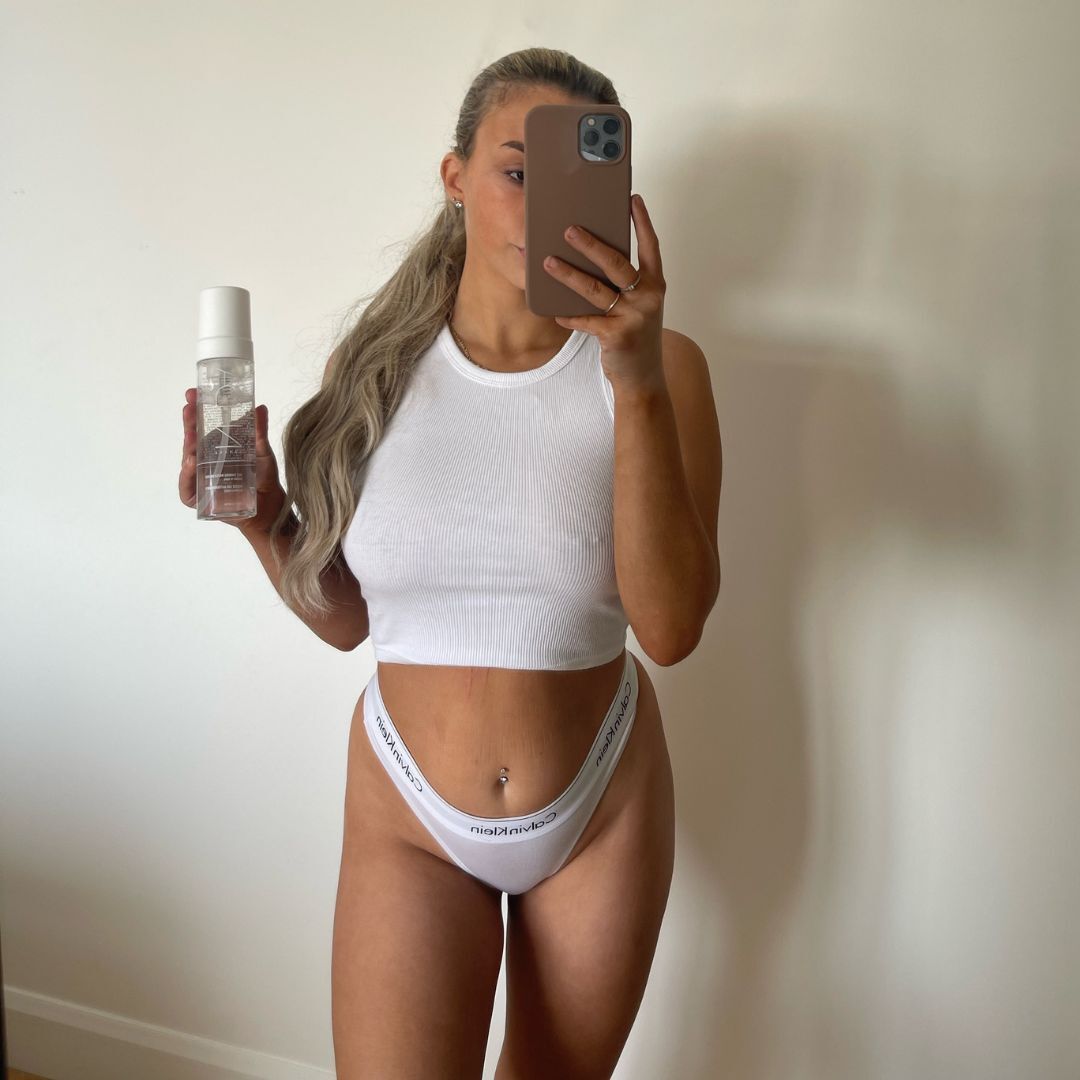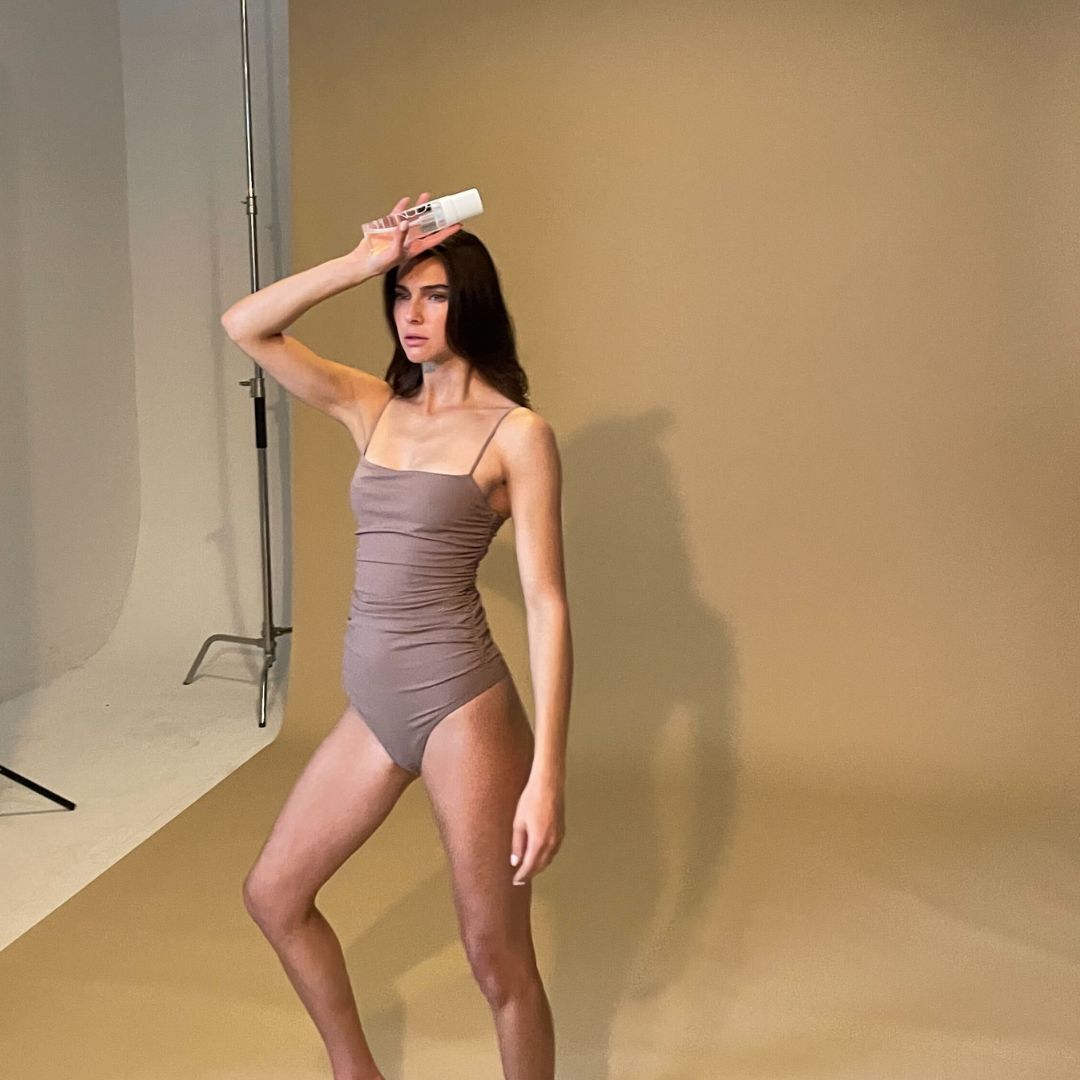 Tanning Tips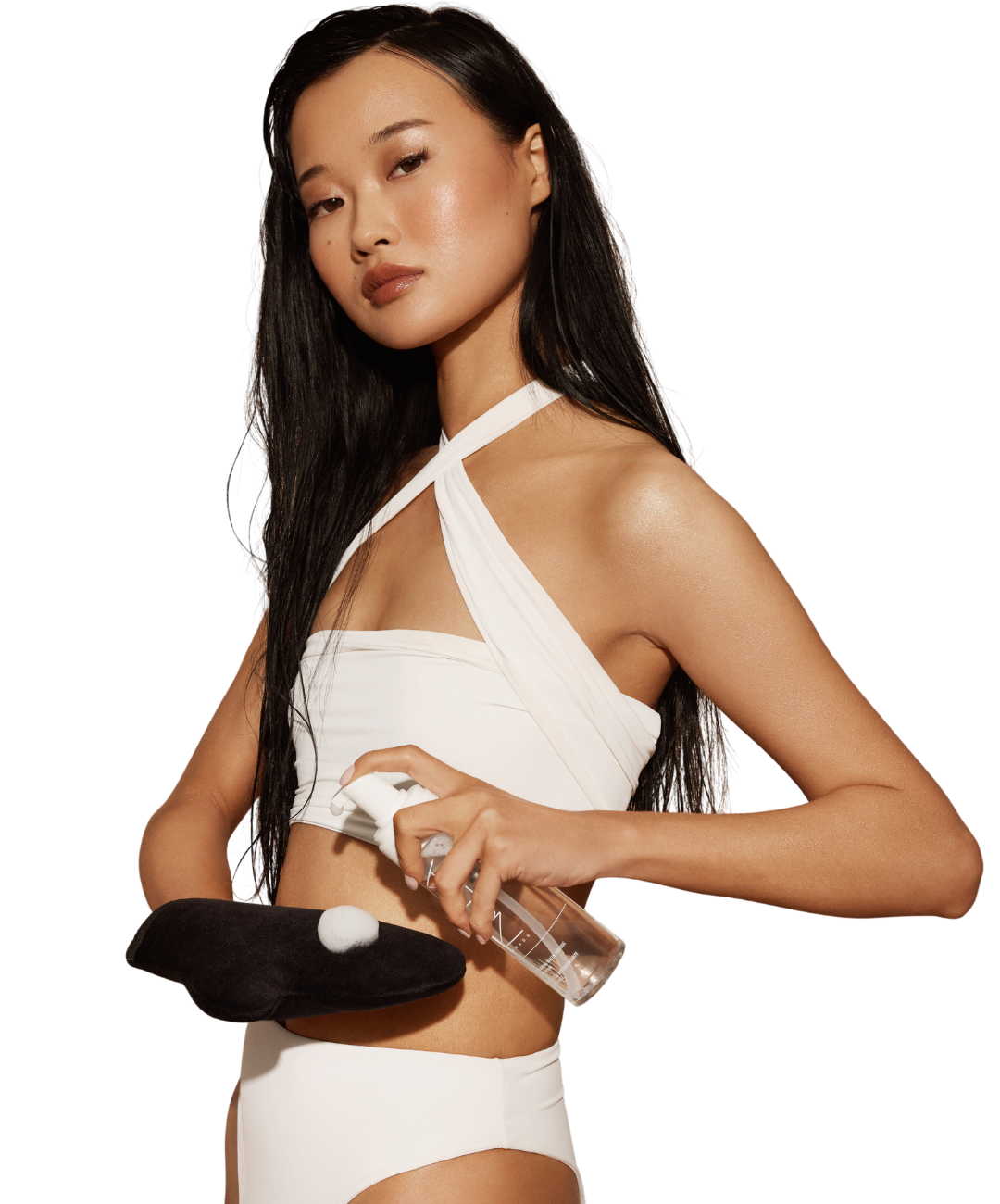 Before
Exfoliate and hydrate your skin several days before applying the Self Tanning Mousse.
Wash and shave your skin 24 hours before the application.
Avoid wearing perfume, deodorant or lotions.
Apply on clean and dry skin.
After
Wear dark coloured and loose fitted clothing.
Avoid contact with liquids and wait a minimum of 2 to 6 hours before showering.
Hydrate your skin every day using the Body Cream.
Avoid hair removal and exfoliation for the duration of the result.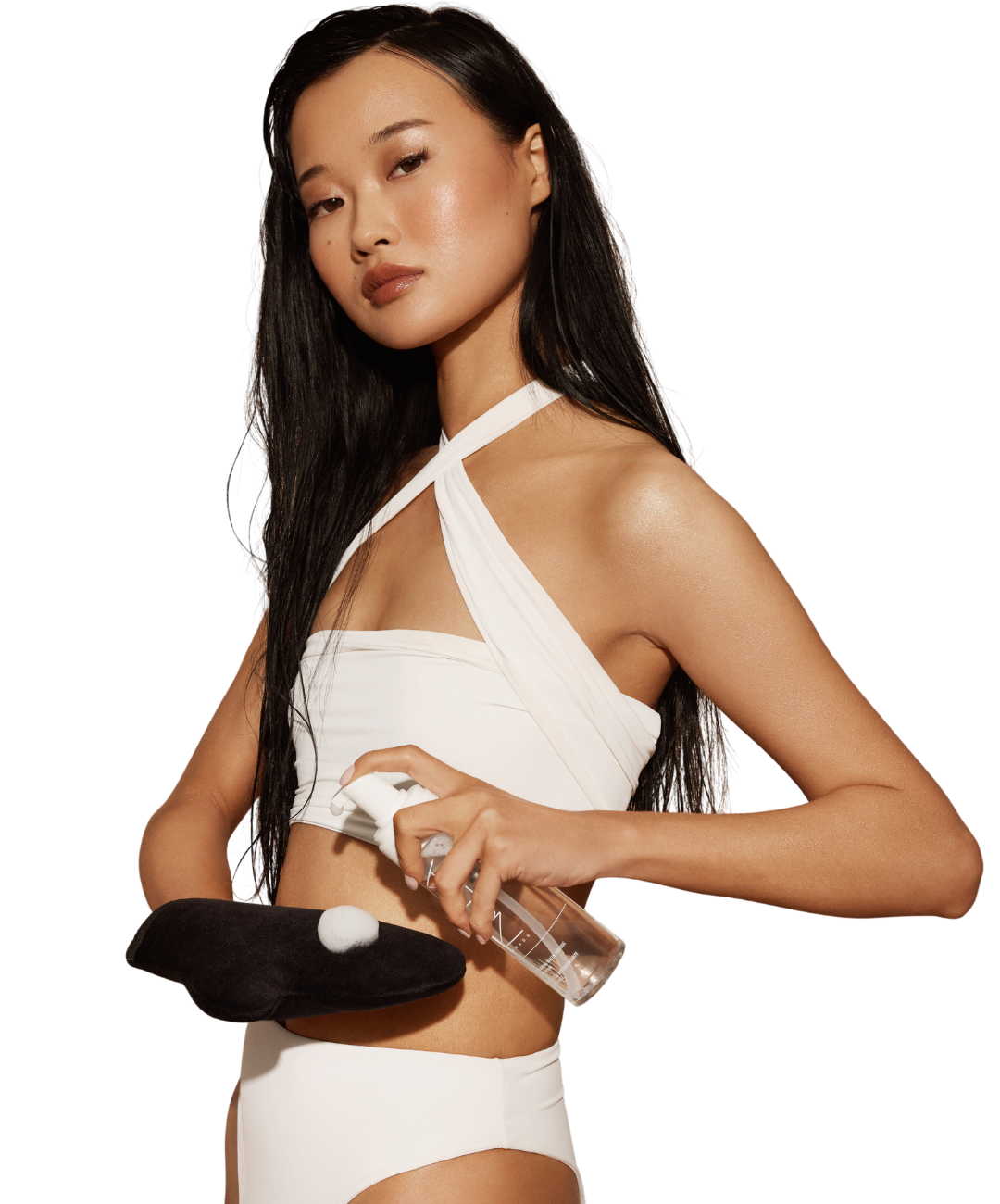 92% agree their skin was hydrated and nourished after using the product.
97% agree their complexion was brighter after using the product.
90% agree it dries quickly 
100% agree it creates a natural looking tan
90% agree it did not transfer on clothes or sheets
*in an independent consumer testing panel of 50 women participants aged between 19 and 50 years old.